Welcome to the Dungeon Boss Wiki

---
| | |
| --- | --- |
| | This is a wiki where anyone can contribute by editing! Click here for a beginner's tutorial on how to do so! |

Need help, Boss? You lost your account? Or do you need help with an in-app purchase? Contact the customer service here. They can help you!
There is a Discord Server for Dungeon Boss here at this link. We are kind of like the forums, but easier to access ~Cowfi5hthecow+fish • 02/04/2018
New Changes to Six Heroes! (

June 30, 2016

)
Recently six Heroes got boosts, new traits and improved abilities. Finally the changes made it into the wiki. Check out the article pages of Brom, Bovus, Augustus, Pignius, Masuta Kira, and Sir William.
Read More...
Demon Synergy and Changes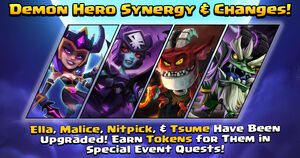 Demon Queen Ella
(
Skin
), the Dark Angel of Sins

Malice
, Pyromaniac

Nitpick
, and the hot-headed

Tsume
performed a secret demons' strengthening ritual to empower their team play. Of course any
Demon
benefits from this new power - escpecially in
Dungeon Raids
.
The Goblin Legendary Team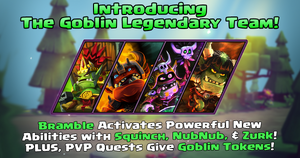 Cruel King Bramble and his fellow Goblins have been training in secret, waiting to wreak havoc on the other heroes, and their time has finally come! Today (26th April 2016), we're introducing several permanent changes to four Goblins that allow them to synergize better than ever before!
Read More...
Improvements for Heroes! (April 6th, 2016)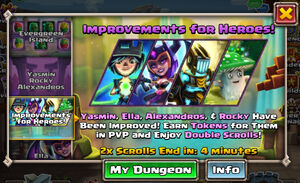 Four of our heroes got their stats and abilities updated. Check out their detailed changes below:
Dungeon Boss Major Update (March 2nd, 2016)
Dungeon Boss just got better! - Blessings, Challenge Mode, and more! The next major update is finally here! To celebrate this update, we've got 2X TOKENS turned on for the next few days.
Now let's go over what this mega update brings to you!
New Stuff!
Guilds
Changes to Guild Crown Collection - There is a cap of 210 Guild Crowns that can be earned by each player in a given week.
Added quests for acquiring lifetime Guild Crowns.
Added Guild Search and Inspect options for players already in a Guild.
Heroes
New Hero! - The eternal guardian  Leonidus awakens to shine divine light upon the land and drive back the growing darkness.
New Revenge passive - Slow heroes have a 25% chance to retaliate to any physical attack with a basic attack.
Frozen characters can no longer dodge attacks.
Making Friends!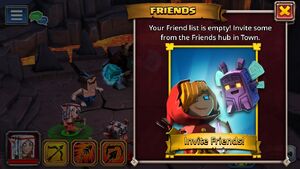 Hey BOSS! Have you added friends into your list? What about bringing in a Fifth member to your team just for that brief moment to take down an extremely difficult
boss? Are you short on

Honor scrolls? If so, then making friends and using them in battle is definitely what you want to do to get more

loot. Read more to find out how!
Read More...
---
Latest News and Updates
Currently there are 79 Heroes, over abilities and traits, 35 Evos, and over 350 Dungeons described in this wiki.
New hero  Drakk the Warlord with a his brutish Barbarian gang arrived in the wiki.
Latest Hero Revamps/reworks:  Alexandros,  Lady Nimriel,  Selwyn the Enduring,  Ignus the Mad,  Balog the Loud,  Abigail the Brutal,  King Yorick,  Hansuke Undying
Need an overview of Classes, Families, and attack speed of your Heroes? Have a look at the Classes Charts!
Game changes and update notes are now available in the Category:Game Update.
Bounty List
The bounty list consists of items that the wiki is still missing, and we'd like your help if you have them!
Max Level Fully Ascended Stats
All Heroes (Because of the new Level 80). Currently the Wiki still has the max values for Level 60 Heroes.
Ability Cooldown Costs
None at the moment
Daily Quests/Rewards
Fill in the spots for daily rewards!


New guild quests not mentioned?

---
Have the information?! Great, choose one of the links below to start immediately!


Add dungeon stats here!


Add hero stats here!


Upload pictures here!
See Help:Editing in editing.
See Help:Editing/Picture in uploading pictures!
---
Tutorial Column
We are currently housing 470 articles, and 3,154 files. We need YOUR help expanding and adding articles to the wiki!
---
---
This is a wikia where anyone can contribute! Click the link above or click a random page to start editing!
---
Do you have screenshots of material for us to use? Head on over to Special:Upload and submit your screen shots there! Here's some instructions on how to do so!