Welcome to the Dungeon Boss Wiki

---
| | |
| --- | --- |
| | This is a wiki where anyone can contribute by editing! Click here for a beginner's tutorial on how to do so! |
Warrior's Way Event and Update to  Bovus El Doro (

August 17, 2018

)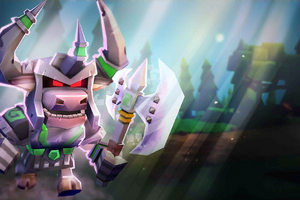 This next Update brings some changes for old

 Bovus El Doro. Read the changes here.
Together with this Update a new Special Event started, the "Warrior's Way". "During this event, all Warriors have the 'Weapons of War' passive, which give them enhanced crit damage and give all their attacks shield piercing.
In addition, this event has a special questline that you can complete to unlock the Battlehorn Bovus skin, and a there's a ticket shop full of loot for you to claim. Prepare for battle!! "
Read More...
Epic weapon released for  Samurai Takumi (

August 10, 2018

)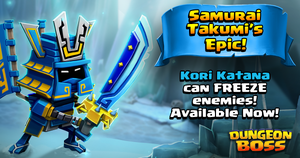 In case you didn't notice, just recently the epic weapon for
 Samurai Takumi has been released.
Read the official announcement:
"Samurai Takumi has put the final touches on a new blade that he's infused with ice magic, and he's ready to say a bunch of really bad 'cold' and 'chill' puns as he uses it on his enemies! Ok, maybe he's not going to be saying puns and he'll just be freezing his enemies.
The Kori Katana increases Samurai Takumi's attack, defense, and skill. It also gives him a chance to purges all buffs on an enemy and then do a shield-piercing melee physical attack for 2x damage, plus the attack will have a chance to freeze! "
Read More...
Updates to all dwarven heroes and Special Event Dwarven Rune War (

August 2, 2018

)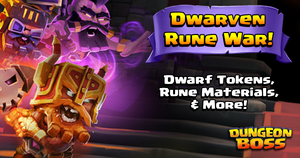 As of August 2, 2018 all Dwarven Heroes got sweet updates making them a viable family again in PvE and PvP.
You can read all update notes HERE. All abilities you can find here on the wiki got updated as well and reflect the current in game status.
As part of the update, the special event Dwarven Rune War was started which provides a good way to collect many tokens for the updated heroes.
If you still need to figure out the Scavenger Hunt Quests, you can find all solutions here as well.
Read More...
Water VS Nature Festival (

July 19, 2018

)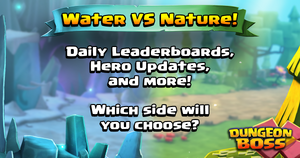 Together with the latest changes to
 Kai Makani and

 Phemus a new Special Event has started, the Water VS Nature Festival.
TLDR;
Choose an element each day (Water or Nature), thereby boosting heroes of that type for the day
Complete Quests and the special dungeon for event tickets
Complete/Quickloot any Blue or Green Dungeons or PvP Raids for scores on a leaderboard (Player and Guild leaderboards are active)
Also one important side note: Look at the Event shop where you can currently buy rare Energy Runes for diamonds (4500 for Superior, 7500 for Elite).

Here are the official Event descriptions:
This event is similar to our other elemental events. When you log into the game, you'll see the "Water VS Nature" event image, which will have a button for each element. Tap on the element that you want to team up with that day. When you choose an element, you'll unlock an exclusive event dungeon, leaderboard, and boost for heroes of that element. The boost will give heroes of that element slightly increased attack, defense, health, skill AND will do a basic follow-up attack after ANY (non follow-up) attack made by other allies of that color! You will be able to choose again starting at 3pm CST each day of the event. You can swap elements or choose the same one each day!
Depending on the element you choose, you will get access to a leaderboard that tracks the number of Ice (Water) or Forest/Dark Forest (Nature) dungeons you complete/quick loot AND any raids you win with at least two heroes of that element. The leaderboard will pay out at 3pm CST every day when the new event day starts.
There will be also guild leaderboards that will track contributions for both Ice and Forest/Dark Forest dungeons, plus raid victories with at least two heroes of one of the elements (winning a raid with one Water hero and one Nature hero will NOT count) that will pay out at the end of the event.
Running the event dungeon with
 Kai Makani or

 Phemus will multiply the tickets paid out from the dungeon by 10x!
Note: In PVP, the elemental boost chosen by the attacker will be active for both sides of the battle.
[[|Read More...]]
New changes to  Kai Makani and  Phemus! (

July 19, 2018

)
With the recent update
 Kai Makani and

 Phemus are granted some sweet changes, all in all boosting their stats and reworking some of their core skills. Now that both heros have received an "undodgable" special, these changes seem to aim at a way to counter those dodgy Assassin teams which are becoming famous in PvP lately (looking at you, tanking

 Shadowblade). For PvP especially
 Kai Makani's updates are of importance which is why you will see him more often now in the player's dungeons.
There is another interesting change regarding

 Agnon. Maybe unnoticed by some, a small update about one week ago removed the restriction of his

 Graniteform , which purged buffs on Agnon when activated (e.g. at the beginning of the match). That meant, you could now provide Agnon with a Tank Rune and he would start the dungeon taunting with his

 Graniteform active. After heavy criticism from the player's community, this change has now been reversed.
>Read all the changes here<
Read More...
The Dark Festival starts on Friday 13th ! (

July 13, 2018

)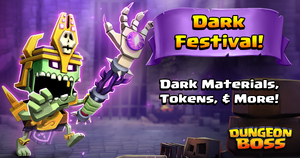 It's time to get those missing dark hero tokens! With the dark festival all dark heroes will be buffed and the event quests provide sweet rewards.
" Friday the 13th gets tons of negative publicity, so we decided to make this weekend a special, lucky Dark Festival! For the next four days, you can choose between a 2x material, 2x gold, 2x tokens, or 2x player XP boost. The boost will last until 3pm CST the following day, at which point you can choose again. You can make the same choice each day, or choose a different one each time!
In addition, we've got four new event dungeons filled with creepy enemies. I mean, even if the weekend isn't unlucky, we still have to play up the spooky aspect. And keep an eye out for the terrifying creature inhabiting "The Thing and Stuff" dungeon!
Meanwhile, all dark heroes get the "Night of Shadows" passive, which allows them to follow up any attack by a Dark ally, and gives all of their basic attacks shield piercing! Now THAT'S scary!"
[[|Read More...]]
The new Epic Weapon for  Black Diamond has been released ! (

July 3, 2018

)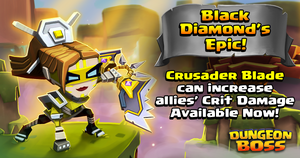 The Crusader Blade increases

 Black Diamond's max health, defense, and attack. It also gives her a chance to buff her team's crit damage by 50% and then do a melee physical attack on target enemy for 2x damage, not counting the potential damage from the crit buff. If you use runes to increase her crit chance, she'll be more likely to deal massive amounts of damage to her target! .
Read More...
The Special Event  Deadeye's Redemption! has started ! (

June 20, 2018

)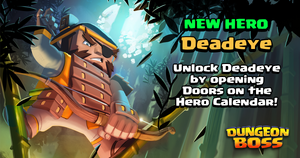 There will be a hero calendar with doors that can be opened each day with different keys. You'll be able to get bronze keys from each day's quests, and can also buy keys in the shop.
A few important things about this event:
This event will involve event tickets.
can be found all over the game, and running dungeons with Honorbound heroes will double the number of tickets you get.

There is a guild event associated with the event, similar to the one from Winterfest based on the number of tickets your guild collects. Rewards are based on thresholds, and the rankings are not competitive.
If you are in a guild, 50 tickets will be sent to everyone in your guild every time you use a gold key. This is not listed on the door, but you can see who has gotten tickets for your guild by checking the guild chat.
You can only open door 1 on day 1. On day 2, you can open door 1 and 2, but can only open door 2 if you've opened door 1. This continues until day 14.
On day 14, if you open the last door, they will all reset and you will have the option to open any/all of them again if you so choose, in any order you want.
Using gold keys on all 28 doors will allow you to 6-star Deadeye AND collect a bonus quest for an Elite Light Rune!
The event shop will be extended at least a day longer than the event itself to give players a chance to spend all their tickets.
A second set of repeatable quests will be added in the second week of the event. These quests will be different from the first set of repeatables.
On Day 13 of the event, we will be giving a free Gold Key to all VIP 10 players, a free silver key to all VIP 5-9 players, and a Bronze key to all VIP 1-4 players.
With the latest update

 Yokozuna,
 Samurai Takumi and

 Hansuke Undying are reworked. Also the new Family Honorbound was introduced to players.
All changes can be viewed here Hero Update Honorbound Hero Reworks.
Read More...

Need help, Boss? You lost your account? Or do you need help with an in-app purchase? Contact the customer service here. They can help you!
There is a Discord Server for Dungeon Boss here at this link. We are kind of like the forums, but easier to access ~Cowfi5hthecow+fish • 02/04/2018
---
Latest News and Updates
Currently there are 80 Heroes, over abilities and traits, 35 Evos, and over 350 Dungeons described in this wiki.
Newest hero in the game:  Deadeye
Latest Hero Revamps/reworks:  Bovus El Doro,  Rogar Stonecrusher,  Dhaegon Stonecrusher,  Dagrund Blacksmoke,  Therand Fiddlestrom,  Hagrim Felhorn, and  High King Valkin
Need an overview of Classes, Families, and attack speed of your Heroes? Have a look at the Classes Charts!
Game changes and update notes are now available in the Category:Game Update.
Feedback Corner
Date: Friday, August 17 • 2018   

What kind of data do you want to see for Heroes first?
Bounty List
The bounty list consists of items that the wiki is still missing, and we'd like your help if you have them!
Max Level Fully Ascended Stats
All Heroes (Because of the new Level 80). Currently the Wiki still has the max values for Level 60 Heroes.
Ability Cooldown Costs
None at the moment
Daily Quests/Rewards
Fill in the spots for daily rewards!


New guild quests not mentioned?

---
Have the information?! Great, choose one of the links below to start immediately!


Add dungeon stats here!


Add hero stats here!


Upload pictures here!
See Help:Editing in editing.
See Help:Editing/Picture in uploading pictures!
---
Tutorial Column
We are currently housing 478 articles, and 3,284 files. We need YOUR help expanding and adding articles to the wiki!
---
---
This is a wikia where anyone can contribute! Click the link above or click a random page to start editing!
---
Do you have screenshots of material for us to use? Head on over to Special:Upload and submit your screen shots there! Here's some instructions on how to do so!