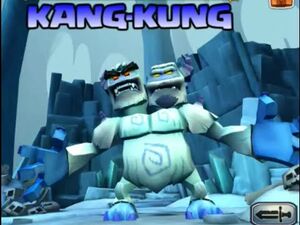 Info
This two-headed monstrosity will use anything at his disposal to crush his enemies.
| Name | Icon | Element | Class |
| --- | --- | --- | --- |
| Kang-Kung | | Water | magical beast fast |
Traits
| Icon | Trait Name | Trait Description |
| --- | --- | --- |
| | Silence Immune | Cannot be Silenced. |
| | Exhaust Immune | Immune to Exhaustion. |
| | Charm Immune | Never succumbs to Charming. |
| | Perfect Swing | Never misses nor can enemies Dodge attacks. |
| | Daze Immune | Cannot be Dazed. |
| | Fire Vulnerability | Takes extra damage from Fire attacks. |
| | Freeze Immune | Cannot be Frozen. |
| | Fear Immune | Cannot be Feared. |
Abilities
Kang-Kung is able to perform the following attacks:
Basic Attack - Kang-Kung lunges and slams one hero.
Tantrum - Kang-Kung does not do any damage to the heroes but summons an Icicle and Snowball for future attacks.
Impaling Spear - Kang-Kung throws the Icicle and makes more icicles fall from the ground and deal damage to all heroes.
snowbowl - Kang-Kung takes the Snowball and throws it at a hero.
Frostfume Breath - Kang-Kung breathes out a cold breath and deals damage to all heroes.
Recommended Heroes

 Willow Swift - Willow's high damaging attacks in addition to her fast trait makes her a valuable opponent against Kang-Kung.

 Bovus El Doro - Being the strong and tough hero he is, he will be a valuable asset to not only fight the monster but get to him too. Stampede can be used to destroy all the Tantrum items too.

 Tsume - The nature demon with his powerful area of effect attack will waste no time making Tantrum ineffective.

 Yasmin Bloom - A healer is a must to ensure the survival of your team to the great beast, and Yasmin is good for the job, particularly if budded up with Water allies.

 Chief NubNub - And of course, NubNub is another powerful option for a healer.

 Stone Fist - Thanks to Impervious, Stone Fist is a powerful ally to have against Kang-Kung, as he ignores the most dangerous effects of Frostfume breath, as well as serves as a good team taunter.

 Phemus - Another option for a taunter, can deal more damage, at the cost of defense.

 Nitpick - While he is vulnerable to Kang-Kung's attacks, his Meteor Storm can deal great damage thanks to Fire Vulnerability.
Photos