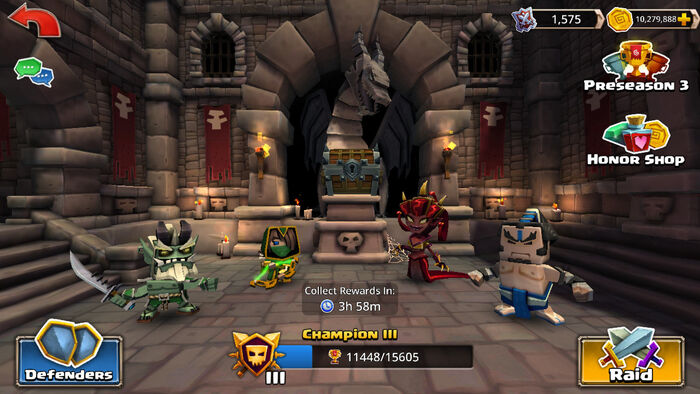 About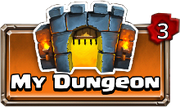 This option is unlocked at Player Level 10. My Dungeon is also the place where Dungeon Raids can be started.
Your chest produces gold over time, which can be increased with hammers. You can collect your gold by clicking the animated chest in the center, which upon a cooldown timer of one hour must past before you can collect your gold again. Your chest is protected by Heroes you choose as defenders. In the case that your chest is raided, a percentage of gold is protected, and the percentage protected can be increased with hammers.
The little green notification gem at the top right corner of My Dungeon indicates that there is gold to be collected.
Treasure Chest Upgrades
| | |
| --- | --- |
| | The tougher your defenders are, the more gold the dungeon generates! |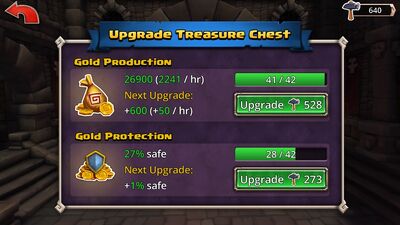 Treasure chest upgrade levels cannot be higher than your current Player Level. For each subsequent upgrade, the cost of hammers increase.
Gold Production
Upgrading your gold production level will increase your maximum gold production per hour as well as your maximum gold storage in your treasure chest.
Gold Protection
Upgrading your gold protection level will increase the amount of gold protected from other players' raids.
Defenders
The strength of your defending team calculates the gold multiplier. It increases the rate of gold production and the maximum gold that your chest can store.
See Dungeon Raid for details on battle play and selection.
Honor Shop
The Honor Shop is another Shop found in My Dungeon (unlocked at Player Level 10).
In addition to utilizing the Honor portal, an adventurer can use Honor Scrolls to purchase goodies through the honor shop. The shop contains the following items:
Pack of 5 Loot Keys
400XP Potions x5
Chest containing 250,000 Gold
Ella Ametryst tokens x5
Random Hero tokens x 3 (Non legendary heroes with base star ranking of 3 costs 700 scrolls, otherwise it is 500 scrolls. Pontifex Mortis and other legendary heroes costs 875 scrolls.)